Profile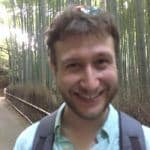 Tim Duckenfield
Curriculum Vitae
Education:

Before 2008: Sandhurst School, UK; 2008-2010: Farnborough 6th ­­Form College, UK; 2010-2014: University of Durham; 2016-present: Centre for Fusion, Space and Astrophysics (CFSA), University of Warwick

Qualifications:

1st Class degree in joint Maths and Physics from Durham, 4 A-levels (Classical Civilisation, Maths, Physics, Further Maths) and 1 AS level (Chemistry), and 10 GCSE's. Currently half way through my PhD in Space Plasma Physics.

Work History:

After my undergraduate degree from Durham, I worked for a company that looked for oil. My team was paid by companies like BP and Shell to collect data in remote deserts, or hundreds of miles out to sea, and use waves to look for oil deep deep underground. I would take the data collected, called "seismic data" (like the data from earthquakes), and use really cool maths and huge supercomputers to make images of the subsurface, up to 10km down. Now I research waves on the Sun, not earth!

Current Job:

I am a PhD researcher investigating waves that happen all over and inside the Sun.

Employer:

I study my PhD with the Centre for Fusion, Space and Astrophysics (CFSA) at the University of Warwick, just south of Coventry.
Favourite thing to do in my job: Making incredible videos of explosions on the Sun, and uploading them onto Instagram.

About Me

I study with the University of Warwick, but I live just north of London. I spend my time observing the Sun through a dizzying array of telescopes both here on Earth and from space. I like traveling to different cities around the world with my girlfriend, usually to eat and drink lots of delicious things!

Read more

I'm a 26 year old guy living just north of London with my girlfriend, no dog yet but checking Battersea Dog's Home every day in case one needs us! I am a fiend for fruits and sweets, particularly bubblegum cola bottles. I love eating and drinking, and travel a lot to different cities around the world to try delicious things. Best pizza I ever had was a margherita in Italy, next to the coast in a really loud takeaway full of teenagers playing pokemon. I've always liked science and explaining why something magical happens, like levitating  rocks and lightbulbs that don't need a plug socket. I've always done Judo and more recently jiu-jitsu, because I love the feeling of flying you get if you're thrown properly – and being able to block punches and kicks feels pretty cool.

My work

I use observations of the Sun from satellites in space to look for waves, which I measure and then use some complicated maths to work out the local conditions like how hot it is, how strong the magnetic field is. This is all to better understand something really strange - why the Sun can be hotter on the outside than in the middle!

Read more

I use space-based satellites and ground based observatories to observe the Sun in lots of different ways. For my work the most useful way is using Ultra-Violet light (the kind that sunscreen is designed to block!), using a satellite in space called the Solar Dynamics Observatory. You can look right now at the images I use – go to Helioviewer.org – Solar and heliospheric image visualization tool and play around with the drop down menu on the left hand side that has a number (wavelength), for example it may start on 304. You will see the Sun right now in different ways, that we label the different ways using different colours. You can also go back in time and see what the Sun looked like in the past, like on the day you were born!

Anyway I use these images and movies to look for waves. There are gazillions of waves happening all over and inside the Sun at any one time, so the ones I am especially interested in are in the Sun's atmosphere called the corona. It's the bit you can see during an eclipse, and has lot of shapes in like loops, huge snake-like blobs called "prominences", and where explosions happen a lot. If you are on that website, go to the number "171", and that's the corona (this image looks yellow). I look for waves on the loops, where the loop wobbles from side to side, a bit like a guitar string in slow motion. Then I use a nifty bit of maths called magnetohydrodynamics to work out what the local conditions are at the wave – so how hot it is, how dense/heavy the loop is, and how strong the magnetic field is. Knowing this we might be able to explain some of the Sun's big mysteries – including why it gets so hot in the corona, when all the energy of the Sun is made in its core.

My Typical Day

My typical day involves a lot of watching videos of the Sun, and using my computer to process the movies to find waves that are interesting. I also do a lot of reading papers, and teaching university first year maths.

Read more

My typical day requires a lot of looking at different datasets of the Sun, and trying to understand what each of them is telling me. I look at different wavelengths of light (ultra-violet, infra-red, microwaves, X-rays) to look for signs of waves. To make sense of all the data I use a lot of processing, a bit like a scientific version of Photoshop. I usually have to code my processes myself using programming languages like Python, and IDL.

One cool example of a process I use is called "motion magnification". You plug in a video, and it comes out with all sideways motion much bigger. For example my friend at work took a video of a lamppost in the wind – with the naked eye you wouldn't see any movement. But after this motion magnification, you can see the lamppost shaking wildly with the wind! I use this to look for teeny weeny waves on the Sun (when I say tiny, I mean in terms of the very large Sun – these waves are about the same as the size of the Earth!).

Apart from making videos of the Sun, I do a lot of maths to work out what wave I am looking at and what I can learn from it. This often requires lots of reading scientific papers, and occasionally writing my own. I also help teach the first year physicists at my university about maths, marking their homework and giving tutorials.

What I'd do with the prize money

I'd continue showing off to the local schools all the cool equipment my department has bought to demonstrate physics. This includes our solar telescopes, through which you can see the Sun safely with your own eyes.

Read more

Our department (CFSA) engages a lot with local STEM outreach, and I have helped give talks at local schools, let them play with our H-alpha telescopes, run solar-based activities, spoken at careers events etc a lot over the last few years. We would use this money to continue traveling to other schools, pay for newer and bigger experiments that show off physics, and generally help the fund our researchers use to enable this outreach.

My Interview

How would you describe yourself in 3 words?

Inquisitive, funny, dorky

What's the best thing you've done in your career?

I found a very specific kind of wave on the Sun that no one has found before...

What or who inspired you to follow your career?

Tim Peake. I met him before he went up into space, and before starting my PhD in Astrophysics! Also my teachers at Sandhurst School, esp Mr Kiss.

What was your favourite subject at school?

Physics, and history.

What did you want to be after you left school?

The person who solved the world's energy crisis, using nuclear fusion (like in the Sun).

Were you ever in trouble at school?

Nope

If you weren't doing this job, what would you choose instead?

Judo teacher and competitor

Who is your favourite singer or band?

Muse

What's your favourite food?

Pineapple (or bacon)

What is the most fun thing you've done?

Fly a helicopter

If you had 3 wishes for yourself what would they be? - be honest!

Being able to eat unlimited bubblegum cola bottles without putting on any weight, see Earth from Space, invent teleportation.

Tell us a joke.

How does a scientist who studies the Sun get his hair cut? Eclipse it...

My profile link:
https://ias.im/u.172937

Print this profile
---
---
---