Profile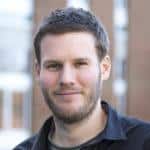 Stephen Wilkins
Currently writing proposals to use the Webb Telescope (due for launch next year)
My CV
Education:

Local inner city comprehensive in Leeds, Durham University for undergraduate, University of Cambridge for PhD

Qualifications:

MPhys in Physics and Astronomy; PhD in Astronomy

Work History:

Durham, Cambridge, Oxford, Sussex (Brighton) though with short stints in Europe and the US

Current Job:

Senior Lecturer and Public Engagement Fellow
About Me:

I'm a Yorkshire born astrophysicist currently enjoying the sunnier climes of Sussex where I contemplate space telescopes and galaxies.

Read more

I'm a Yorkshire born astrophysicist currently living in the sunnier climes of Sussex. I have two small children who try their hardest to interrupt my sleep but generally make for good hiking/drinking (mine: beer, theirs: milk or juice) buddies on a weekend. I spend my working time teaching, supervising PhD students, writing grant and telescope proposals, planning new public engagement activities, and research (in that order). Outside of work I coordinate public engagement activities and spend time hiking  across the South Downs and coastline (mostly to pubs) with my kids. I spend a lot of time travelling to other countries for conferences and to use large telescopes, often located on remote islands or high on mountains in deserts.

Read more

Because light travels at a certain speed when we look at objects we see them as they appeared some time ago. For Saturn this is around 100 minutes but for the most distant galaxies we can now observe this is close to the age of the Universe. When we observe these galaxies we're seeing them as they appeared when the Universe was very young when things were very different. The state-of-the-art for doing this is the ~25 year old Hubble Space Telescope but this will soon (next year) be replaced by the James Webb Space Telescope (JWST), a collaboration between NASA, the European Space Agency (including the UK!), and the Canadian Space Agency. I'm currently gearing up to use JWST – in the meantime I'm using super-computers to make detailed predictions for what we expect to see.

My Typical Day:

Woken up early, go to the work gym, check/reply to emails, teach, supervise, research, home

Read more

Woken up early (4-6am) by small children.
Escape on the bus to work by around 7am.
Gym for 45 minutes to focus my mind.
Check news, emails, reply to easy emails, prioritise other emails.
Often teaching, meetings with colleagues, supervising project/PhD students, occasionally doing some research in between writing grant/telescope applications.

What I'd do with the prize money:

Promote a STEM club in my son's primary school
My Interview

How would you describe yourself in 3 words?

Collection of atoms

What did you want to be after you left school?

Scientist, architect, or a graphic designer

Were you ever in trouble at school?

Occasionally

Who is your favourite singer or band?

The Cure (who released most of their songs before I was born)

What's your favourite food?

Sweet potato or hummus

If you had 3 wishes for yourself what would they be? - be honest!

(1) family remain healthy (2) enough gold that I could concentrate on research/outreach (3) 3 more wishes

Tell us a joke.

I was up all night wondering where the Sun had gone… then it dawned on me.
---
---
---