Profile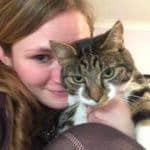 Sammie Buzzard
My CV
Education:

Turnford School (2000-2005), Goffs School (2005-2007), University of Exeter (2008-2012)

Qualifications:

PhD from the University of Reading's Department of Meteorology

Current Job:

I work as a researcher in sea ice at University College London
Read more

I live near London with my boyfriend. When I'm not doing science I like to play the oboe and do triathlons.

Read more

I'm part of a big team from lots of universities in different countries trying to work out how much sea ice there is in the Arctic. We can do this using information from satellites but lots of things can make these difficult.

Read more

I don't really have a typical day and that's why I like what I do! Lots of days are spent in my office trying to work with data but I also get to travel round and talk about my work with other scientists, and visit schools and adult groups to tell them about the polar regions. When I'm really lucky I get to be in the Arctic to do work and take measurements of the ice (and try and avoid the polar bears).
My Interview

How would you describe yourself in 3 words?

Optimistic, hard-working, lucky!

What did you want to be after you left school?

I wanted to be a vet, I even started at vet school before I realised I much prefer the research side and just looking after own my cats.

Were you ever in trouble at school?

I probably should have been quite a lot but my best friend was very good at talking us out of it- hang on to friends like that!

Who is your favourite singer or band?

Arcade Fire

What's your favourite food?

Always pizza! 🍕

If you had 3 wishes for yourself what would they be? - be honest!

To go to Antarctica, to have a pet husky and... is wishing for more wishes cheating?

Tell us a joke.

What did the polar bears say when they saw scientists in sleeping bags? "Mmmm Sandwiches!" 
---
---
---