Profile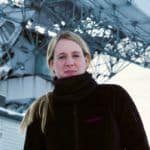 Lisa Baddeley
Scientist studying the aurora borealis and University lecturer
Curriculum Vitae
Education

1990 - 1994: Bydales School, Marske-by-Sea, Redcar, Cleveland, UK; 1994 - 1996: St. Marys RC Sixth Form College, Middlesborough, UK; 1996 - 2004: Department of Physics and Astronomy, Leicester University, Leicester, UK

Qualifications

PhD in Space Plasma Physics, Masters degree in Physics with Astrophysics, 4 A-levels (physics, chemistry, maths, further maths), 10 GCSEs grade A-C

Work History

2012 - present: Associate Professor in the Geophysics Dept. at the University Centre in Svalbard (UNIS), Norway; 2009 - 2012: Research scientist at UNIS; 2007 - 2009: Program Manager for EISCAT in Kiruna, Sweden; 2004 - 2007: Research scientist in the Radio and Space Plasma Physics Group at the University of Leicester, UK

Current Job

Associate Professor in Space Physics at UNIS

Employer
Favourite thing to do in my job: Being outside watching the aurora.

About Me: I live on a small island called Svalbard in the Arctic Ocean. I have a dog called Walter. I love travelling and Sci-Fi. I'm currently trying to learn to cross-country ski.

Read more

There are about 2500 people living on Svalbard (compared to about 3000 polar bears), mostly in the main town of Longyearbyen (obviously not the polar bears!). Outside of the town there are no roads so we get around outside of town either using snow mobiles or dog sleds (during winter time) or walking or boat (during summer time). I like to get outdoors in my free time.  I have a dog called Walter who is 10 months old and I am teaching him how to pull me on skis so we can go out skiing together.  I have a snow mobile and like to go on trips out of town.  Even though it's a very isolated place we have very fast broadband (1Gb/s) so I can binge watch things on netflix when the weather outside is bad!  I enjoy travelling (which I get to do a lot of with my job) and have travelled to many countries across the World.

My Work: I'm an Associate Professor in the Space Physics Research Group at the University Centre in Svalbard (www.unis.no). I use radars, cameras and rockets to see how the magnetic field of the Sun and Solar particles interacts with the Earths magnetic field and upper atmosphere (which creates the aurora borealis). This interaction is often called Space Weather. I also teach undergraduate and postgraduate courses in physics.

Read more

I work at the University Centre in Svalbard UNIS in the department of Geophysics. We are the northernmost University in the world, located on the archipelago of Svalbard (a group of Islands in the Arctic Ocean about 600 miles south of the North Pole).

My job has several parts: teaching undergraduate and post graduate students, scientific research, fieldwork to collect data for my research, science outreach to the general public and travelling to conferences to present my research to other scientists. I teach a few different subjects: 'radar applications in space physics', 'upper atmospheric physics' and 'remote sensing and space instrumentation'. There is some more information below:

Approximately 60% of my time is spent doing research which consists of collecting and analysing data and writing scientific papers. My research looks at the effect of particles and energy from the Solar Wind entering into the Earth's MAGNETOSPHERE. The magnetosphere is formed by the Earth's geomagnetic field and forms a protective bubble around the Earth, shielding us from most of the particles that are flowing out from the Sun (the Solar Wind). At the POLAR CUSP region, however, the Solar Wind can penetrate into our magnetosphere.

Image courtesy of ESA (for a larger version click here )

The energy and particles then  travel into different layers of the Earth's IONOSPHERE (the upper part of the atmosphere that is ionized from about 60km to 600km in altitude).  Here they can create the aurora by colliding with Oxygen and Nitrogen.

I use the EISCAT radars (EISCAT) here on Svalbard to look at temperature and density changes when there is aurora in the sky.

EISCAT Svalbard Radars

We also have another radar here called SuperDARN which can monitor how fast the ionosphere is moving (it is normally moving at about 600 meters per second but it can move at over 2km per second!).

Svalbard SuperDARN radar

Here is some data from our SuperDARN radar on Svalbard.  It is showing the motion of the ionosphere at 250km altitude.

This radar forms part of a network of 35 radars located across the Earth: SuperDARN

I also use cameras to look at the colour of the aurora. The different colours (or wavelengths) tell us about the altitude of the aurora and also the energy of the particles from the Solar Wind causing it.

The Green aurora is mainly from Oxygen and the red aurora from Oxygen and Nitrogen. You can see the full spectrum of the aurora here:

On Svalbard, in winter time, we have 24 hour darkness (called the polar night). During this time we can see both the 'dayside' aurora (normally invisible to the naked eye due to the daylight) and the 'night side' aurora. The pictures below are taking with a camera with a special wide angle lens (called a fish eye lens) so we can see the whole sky.

Above: dayside aurora seen from the KHO will an all -sky camera

above: nightside aurora seen from the KHO with an All-Sky Camera

I also help to run the radars when we have rocket campaigns.  This involves shooting a rocket into the aurora with lots of instruments on. These are launched by Andøya Space Centre and you can find lots of information about SOUNDING ROCKETS and the GRAND CHALLENGE on their website:

I teach on 4 courses at the University. This takes approximately 40% of my time. I am responsible for 2 of those courses, which means as well as teaching I also decide what is taught  and the timetable. The information about my courses can be found here: My courses

I travel to conferences around the world to talk about my research with other scientists.

We get a lot of politicians, journalists and tv crews visiting Svalbard and many of them want to know about the research we do.  I often talk to them about my research and help them understand why it is important.

My Typical Day: I don't have a typical day! In the winter season (Nov - Feb) then I spend time at the Kjell Henriksen auroral observatory (KHO) or the radar site. During the rest of my time I'm at the University teaching students, analysing data, writing science papers.

Read more

I normally get into work at the University at about 9am.  First priority is to have coffee and the research group have morning coffee together. After that it can depend on if I am running experiments, teaching or working with data.

If I am teaching then I am with the students in lectures or seminars.  As part of the courses that I run, the students also have a week of fieldwork so I sometimes out at the radar site, teaching the students how to run the radar.

If I am working with data then I spend my time writing computer programs to analyse it.  I use the IDL and MATLAB computer languages but my PhD student uses PYTHON. A lot of the data in Space Physics is available online or from data servers.

Here is link to the realtime data from a satellite called DSCOVR which is monitoring the Solar Wind (speed in purple, density in orange) and the Suns magnetic field (strength shown in black and direction shown in red). REALTIME SOLAR WIND DATA

I use data from NASA and ESA as well as from other research groups around the world. Once I've analysed my data then I have to write a scientific paper detailing what I have discovered and try to get it published in a science journal so other scientists can read about it.

If I am running experiments then I am up at the radar site or the KHO. I am normally running experiments for a few weeks a year and these tend to be during the Polar night when we have 24 hour darkness.  Sometimes the experiments can last for a few days and sometimes for a few hours. When I am running experiments I tend to have long work days (12 hours).

I have regular meetings with my students and also with other scientists to discuss our research projects mainly using skype or google hangouts.

What I'd do with the prize money: I am going to give the money to an infant and primary school in the UK to help them run a science week

My Interview

What or who inspired you to follow your career?

When I was growing up we lived where there was hardly any light pollution so I could see the stars and the milkyway very often. I also had a primary school teacher who was very interested in astronomy and he would teach us about the constellations. I also watched a lot of science fiction on tv (Star Trek was the favourite).

What was your favourite subject at school?

Science

What did you want to be after you left school?

An astronaut or failing that an astronomer

Were you ever in trouble at school?

I wasn't a straight A student and I did have the odd visit to detention.

If you weren't doing this job, what would you choose instead?

I really love animals so I would like to be a vet or maybe just to work at an RSPCA shelter.

What's your favourite food?

Chicken Tikka Garlic Bhuna or Sunday Roast (with yorkshires)

What is the most fun thing you've done?

I've helped some friends out with their dog sled teams which is always fun. The dogs love to run and pull sleds so the start can be rather fast but once you are out on the snow its amazing (even more so when the dogs obey your commands!).
---
---